Hi Everyone 🙂

We ❤ Role Play opened yesterday and I have to take time to talk about the amazing elf ears that Bentbox released. I had seen previews of them on Flickr but they are so much more in person. You get 5 different sizes ranging from extra-large to extra small and there is a customization hud that allows you to change the ear color, add or remove tattoos and jewelry and there is also something I have not seen in any other ears…..ANIMATIONS! That's right these ears move and you can set different moods or just set it to cycle through all of them.
Here is what the hud looks like.



I also took a quick video to show you these awesome ears. I am totally in love with them and may never take them off!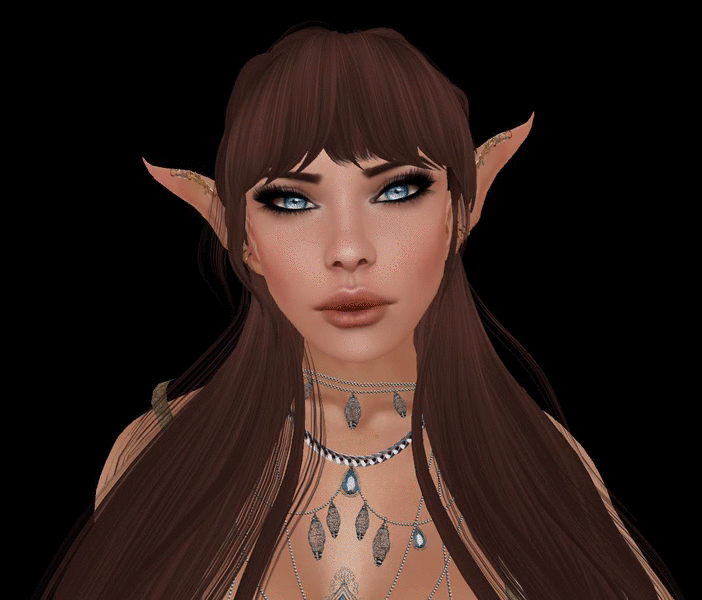 The Makeover Room has also started and 7 Deadly Skins has released Queenie, a skin box with 18 skins in snow and taupe colors and includes Tango, Phatazz and Slink Appliers. You get all that for only 300 Lindens! These are some gorgeous skins for an incredible price.
Tomorrow at midnight the gacha event most of the role play and fantasy communities look forward to opens. The Fantasy Gacha Carnival is back with another incredible round and to give you a little taste of what you can find I am wearing one of !gO!'s Vera dresses. Gocha Merlin has once again come up with some incredible designs for the FGC. If you would like to see what I am talking about check oh Gocha's Flickr.
Now on to all the specific details 🙂

Body
Mesh Body: Maitreya (Onyx Leshelle) Mesh Body and Hands – Lara
Body Applier: 7 Deadly s{K}ins (Izara Zuta) MAITREYA Taupe plain


Skin: 7 Deadly s{K}ins (Izara Zuta) Queenie taupe V3
(@ Makeover Room)
Thank you Izara Zuta ❤
Shape: My Own
Hair: Spellbound (Kohana Xue) Nahara
Eyes: IKON (Ikon Innovia) Eternal Eyes – Frost
Ears: BentBox (DiaUlar) Sylvan Ears
(@ We ❤ Role Play)
Makeup
Eyelashes: ARISE (lonlysoule) Eyelashes No. 8


Outfit
Dress: !gO! (Gocha Merlin) Vera dress
(11/6 @ Fantasy Gacha Carnival)
Thank you Gocha Merlin ❤
Shoes: Essenz (Senzati0n Domenitzo) Mumbai (old hunt item)

Accessories
Necklace: Enfant Terrible (L'enfant terrible) Daliahs Necklace

Poses: posetivity (meccaa) Karla5 Curvy, posetivity (meccaa) Karla3 & Signature Pose Queen of Air and Light 001 (unable to find LM or Marketplace store)

Photo Taken at Nightfall Cities: Into the Wild

Sorry for such a long post but I had lots to show you 🙂